A core responsibility of my role for the Jekyll Island Authority is ensuring a successful email marketing plan with continued audience growth and solid campaign performance. From the ground up, I coded a series of templates with Adobe Dreamweaver to integrate seamlessly with Mailchimp's platform. The contents of each email were established on an editorial calendar to align with major marketing initiatives. Through team collaboration, emails were written by in-house talent. Ad placements were offered to co-op partners, and placements regularly sold out with minutes of availability. Performance not only exceeded internal expectations by bested industry benchmarks. 
January 2023 Newsletter
Delivered: Thu, Jan 5, 2023 6:30 pm
Open Rate: 43% (compared to industry average of 20.44%)
Since Apple introduced privacy enhancements to its Mail app, all email marketers are experiencing inflated open rates. However, that metric has proven effective for Jekyll Island, especially when comparing email sent after Apple's update.
This particular email saw success, in part, due to deliver time and subject line, leading to a huge open rate. 
Sustained growth of the audience has been a major focus for me and my team. Since joining Jekyll Island as digital content manager, email subscribers increased from 45,000 to 104,000 subscribers, a massive increase of 131%. The trajectory continues to extend upward as further enhancements are rolled out across customer touch points. Organically, we've removed as many barriers as possible for newsletter sign-ups. In paid efforts, many ad dollars are focused on converting with newsletter sign-ups.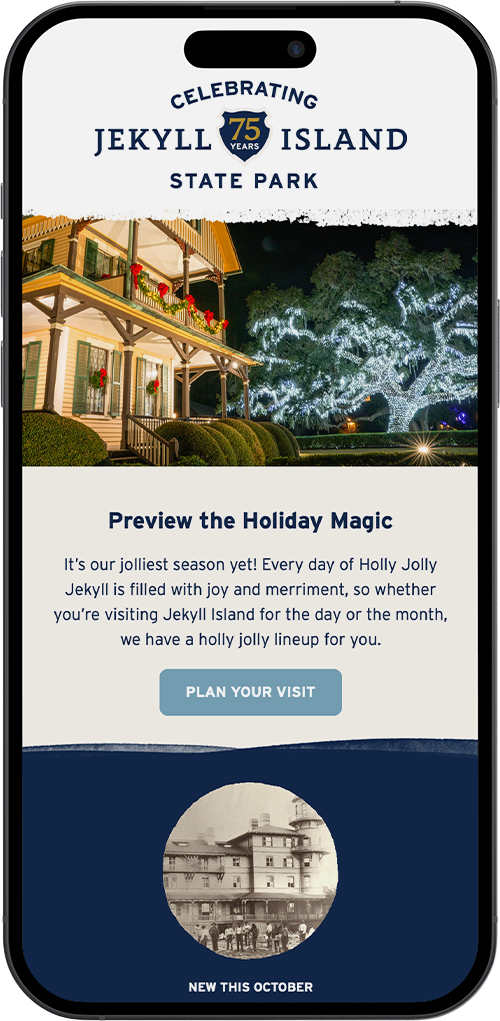 September 2022 Newsletter
Delivered: Thu, Sep 8, 2022 5:00 pm
Open Rate: 37.9% (compared to industry average of 20.44%)
Click Rate: 3.1% (compared to industry average of 2.25%)